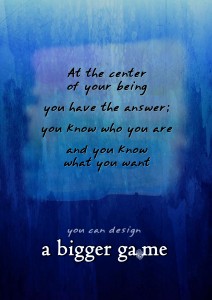 If you want to change the world, this workbook is for you!
The work of the change-agent is irresistible to some of us: we see new possibilities, better ways, and we long to share them with our valued colleagues and loved ones.
Being out front can be lonely, though: when the dream seems far off, and others don't "get" it; when obstacles abound, or confusion sets in… then, what keeps us going is:
Living from the heart.
Knowing who we are and what we love keeps us vibrant in the face of resistance, delay and uncertainty.
Think of these 4 exercises as time at the spa for your heart:
Tell the truth: when you're happiest, what makes you you? (on values)
Get unstuck: find the inner voices that make it work! (new perspectives)
More than a job: what's your calling? (personal vision)
Get moving! Design your next steps. (a call to action)
Download the smartphone-friendly e-book and set aside a few hours for self-care… plan them right into your calendar: 4 appointments with your heart, 4 moments of truth. Dare to get off the hamster wheel and sit quietly. You'll rediscover the aliveness of being at-choice:
Imagine: what if you did only what brings you joy?
That's where world-work starts. I want to grow a more joyful world, and so I am happy to share this book with you. I'd love to keep you up-to-date with future resources and events, too. So, if you haven't already, please subscribe to my newsletter before you download – or just skip to the bottom and download without subscribing… Either way, Enjoy!
Deb