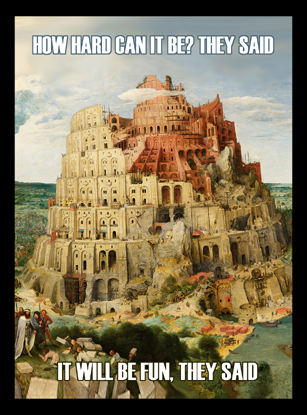 LiftOff refers to the time and energy invested by a collaborative community (a team, a project) to explore and put in place what everyone needs for a successful outcome. The purpose of this investment is to give all stakeholders of a project a voice, engaging them in co-creation and co-ownership of the project – thereby winning greater commitment, and increasing effectiveness to reach collaborative success.
The activities needed for LiftOff will vary according to team and context, but there is one central practice that we'd like to see all software teams using: Agile Chartering. This is "small a" agile chartering, that is to say: "just enough" chartering, in contrast with the heavier "up-front" traditional chartering processes defined by, for example, the Project Management Institute (PMI).
Chartering is one of those things that just needs to be done: so, you can either do it up front, or wait and discover the cost of its omission later, and then (if there is still time) stop and do it anyway… not to mention repairing the damage already done by miscommunication, waste, and strife. Although the work itself is a team effort, it does require leadership and strong facilitation, to keep it lively, focused and moving forward.
The following introduction is just enough to get you started with Agile Chartering, which has been in use for years by leading pracitioners like Diana Larsen, Ainsley Nies, Joshua Kerievsky, III, David Hussman and others. For a more detailed introduction_ the structure of Agile Chartering is described in the 2nd half of the book Liftoff by Diana Larsen and Ainsley Nies.
---
An introduction to Agile Chartering:
Agile Chartering is a powerful practice – for newly-formed teams, and those already working together – that engages, aligns & inspires everyone toward a common goal.
Chartering activities drive frank discussion, and tuning, of a team's purpose, alignment and context. By building a shared understanding of the big picture, and challenging assumptions at the outset, the team can launch themselves for improved performance and valuable outcomes.
Chartering helps a team, its sponsor and key stakeholders explicitly
formulate their shared…
Purpose:
What's our vision? What is our unique contribution to reaching it? How will we know when we've achieved it … or when it needs to change?
This is a critical starting point: the team, management and key stakeholders review the initial purpose statement and refine it to create a resonant, shared project vision, a clear mission and team-specific mission tests.

Alignment:
Who's on board, and who should be? What talents and skills would make us even better able to deliver? What would make teamwork a joy?
In these activities, the community works out the values and principles by which the team will operate, clearly defines who is in the core team, and starts to identify their key partners for success.

Context:
How does the team fit into the bigger picture? What risks and opportunities do we see now? What conversations need to be initiated and maintained to ensure value flows where it's needed, when it's needed?
Having established the boundaries of the group, these discussions delineate how and with whom the team needs to interact, and does some initial risk and prospective analysis.
Other languages: 200-word versions in French, German, Finnish and Russian. Contact us to contribute your own translation!
---
Do you need chartering?
For new teams: Yes! And, for teams already underway: when circumstances inside or outside the team disrupt effectiveness, invest some energy in chartering to re-align to changed conditions and recover momentum.
Read how to get started, and discover the specific activities recommended for each aspect of Liftoff and Chartering, in the book Liftoff by Diana Larsen and Ainsley Nies, and check back here in the coming weeks for discussion and new resources!
---
Downloads:
---
About this material:
The liftoff content is brought to you by Deb and the other members of the LiftingOff Core Team, formed in October 2014. We wish you great teamwork and satisfying outcomes!